ULTIMATE 4 DAYS STAY IN TOKYO, JAPAN
Japan is one of the most popular travel destinations in the region. The fascinating country of Japan is also hosting the 2020 Olympics. And two major cities of Japan are all decked for the occasion.
Osaka and Tokyo are both enriched with culture, heritage, innovation, and its refined cuisine is well recognized in the world.
Tokyo is a buzzing metropolis, is the epicenter of innovative technology. Famous for Anime, Akihabara, manga, and video games. It is essentially a jungle of electric lights and colors at night, is a bustling city that boasts a wide range of activities.
Shibuya, Japan
Must-Stay
Shinjuku is well connected with the Japan Rail JR
JR Yamanote train line, loop around the city's main areas;
JR Chuo line which heads to Tokyo Station leads you to Pokemon Center and Ghibli Museum.
JR Fuji Excursion – Shinjuku, Chuo Line, a day trip to see Mount Fuji.
Shinjuku metro lines, direct access to the Narita airport on the comfortable Narita Express.
DAY ONE- EXPLORE TOKYO POP CULTURE
Tokyo is a Mecca of Otaku culture, Anime and Manga are big parts of modern Japanese culture and have attracted fans from all around the world.
There are theme shops, museum cafes that focus on these famous Anime and Manga.
It is worth visiting at least one museum while you are in Tokyo, even if you are not a big fan of manga/anime.
AKIHABARA
Akihabara is one of the best-known places in Tokyo for Anime, Manga, electronics, and the uniquely Japanese Otaku culture.
Akihabara is an ideal spot for its neon pop robotic culture. It is easily accessible with less than 20 minutes from Shinjuku station to Akihabara station.
With plenty of electronics available at low prices, with tons amount of figurines, toys from anime, manga, and large ranges of games like Sega games. It is the perfect place to find some cool collectible Japanese gifts.
For manga and game lovers, one day is never enough.
POKEMON Center Mega TOKYO
Pokemon is one of the most popular games which has taken the whole world by storm.
There are 14 Pokemon Center in Japan and five in Tokyo. Less than 10 minutes via Higashi-Shinjuku Metro, alight at Ikebukuro Station and walk about 1 km (15 minutes) 170-0013 Tokyo, Toshima City, Higashiikebukuro, 3 Chome−1−2
The biggest is the Pokemon Center TOKYO DX situated in Nihonbashi.
NINTENDO TOKYO
Nintendo TOKYO has opened its 1st official store at Shibuya PARCO in the winter of 2019. The shop offers a wide range of Nintendo products including games and limited merchandise including Super Mario, Splatoon, Zelda, and Animal Crossing.
The new Pokemon Center has recently opened in the newly renovated  Shibuya PARCO.  Access via Shinjuku Station to Shibuya Station, PARCO 6F 15-1 Udagawacho, Shibuya City, Tokyo 150-8377, Japan
Shibuya
GHIBLI Museum
Studio Ghibli is an award-winning film studio in Japan. Some of the most famous animation films are "My Neighbor Totoro", "Princess Mononoke" and "Spirited Away".
The Ghibli Museum is one and the only museum highlighting the work and history of Studio Ghibli and Hayao Miyazaki. The museum is in Mitaka, Tokyo, and can be accessed within 30 mins from Shinjuku Station. Visitors must purchase tickets in advance which can be booked online. 
* If you happen to be at the Tokyo station, you can head to the Mitsubishi Ichigokan Museum. This museum exhibition art inspired by the 19th Century, featuring works of Henri Toulouse-Lautrec and more here.  And since you are here, try hop onto the nearby Hibiya-Koen Park, It is a nice park to get off the busy street and enjoy some peaceful moments.
Must-Go
Spend an evening be entertain at the fun and energetic ROBOT Restaurant while staying in Shinjuku. This Theme restaurant/bar featuring a raucous pop-culture show with robotic monsters, dancers & lasers.
Is just 3 min walk from Shinjuku Golden Gai.
DAY 2 – DISCOVER THE EDGE OF TOKYO
As you may have known Tsukiji Shijo, the largest and busiest fish market in the world, in Tokyo since 1935.  The market was moved following the Great Kanto Earthquake. This historic market had since relocated to Toyosu.
Board a train from Shinjuku-sanchome Station to Toyosu Station is about an hour's journey one way.
The Toyosu Market is a wholesale market in Tokyo, located in the Toyosu area of the Kōtō ward. There are two buildings for seafood and one for fruits and vegetables. Tourists can observe the market on its 2nd-floor viewing deck.
For all the seafood lovers, the restaurants here serve fresh seafood and produce from the market and shops.
Operation Hours of Toyosu Fish Market
Monday
5 am–5 pm
Tuesday

 

(National Foundation Day)

5 am–5 pm

 

Hours might differ

Wednesday
Closed
Thursday
5 am–5 pm
Friday
5 am–2:30 am
Saturday
5 am–5 pm
Sunday
Closed
Must-Do
Since you are within this area, do check out the Hot Spring (Onsen) while you are in Toyosu.
Hot spring "Hakusan Yu" is loved by residents since 1955. Hakusan Hot Spring is famous for artificial carbonic acid hot springs, and it's about 10 minutes' walk from Toyosu Station.
It is the only hot spring in the Toyosu area, and you can use the main electronic money such as Pasmo, Suica, Waon, Nanaco, Rakuten Edy, and ID while protecting the tradition. Access to Hakusan Hot Spring from Toyosu.
Must-Shop 
Ito Yokado store is a popular hypermarket counting 167 stores all over Japan. Here you can purchase everything from fresh food and Japanese snacks to cosmetics and clothing. Do check out their Tax-free counter requirement if you plan to get some big-ticket items from this store. Ito Yokado's is known for its good quality at reasonable pricing.
It is also a good way to sample the mouth-watering Japanese snacks at an effort price under one roof.
Ito Yokado Grocery Store Shinjuku Tomihisa is conveniently located close to Shinjuku Station. It's 8 minutes on foot from Shinjuku Station.
DAY THREE – CITY HOP SHINJUKU DISTRICT
Must-See
The History – Imperial Palace, Shrine & Museum
The Imperial Palace is one of the iconic attractions in Tokyo. Ironically, the palace doors only open to visitors on the 23rd of December and the 2nd of January, two days of the year.
Board the city train to Tokyo Station, walk towards the Marunouchi North Exit. Follow the direction of North-West is about 15 minutes' walk to the Otemon Gate.
Imperial Palace East Garden, is the only spot open to the public and is free admission. Opening hours are 9:00 am to 4:30 pm.
Take a stroll to the southwest corner of the Imperial Palace Plaza. The two awesome views of bridges Niju-Bashi and Megane-Bashi with the Imperial Palace buildings in the backdrop.
Kitanomaru-Koen Park and Yasukunji-jinja shrine these two attractions are conveniently located within the corner of the Imperial Palace, which is worth a visit too.
Kitanomaru-Koen Park is free admission and is a 2-minute walk from exit 2 of Kudanshita Station on the Tokyo Metro Hanzomon and Tozai lines, and Toei Shinjuku line.
The origins of the Yasukuni Jinja shrine is only a 10-minute walk from Iidabashi stations, Chuo lines.
This shrine was name Shokonsha, established on June 29, 1869, by Emperor Meiji. In 1879, it was renamed Yasukuni Jinja to date. Yushukan War Memorial Museum is within the same compound, is a very interesting place to visit when you are here. So, don't miss it.
The shrine is free to visit year-round from 6:00 to 18:00 (17:00 from November to February). The Yushukan Museum is open from 9:00 to 16:30 (admission until 16:00) with an 800-yen admission fee.
Must-Shop
One of the shopping spree highlights in Japan is the BIC Camera. It has three outlets near Shinjuku Station – one inside Odakyu HALC on the west side of the station and two on the east side: a large outlet called Bicqlo that is combined with a Uniqlo outlet, and a smaller branch called Bic Camera Shinjuku Station East Gate.
Japan is known for its cutting-edge technology and high-quality electronic product. BIC Camera, one of the country's largest and most popular electronic retailers, is a prime place to shop and there's pretty much no one who doesn't end up stopping by!
The best part of Bic Camera offers a tax-free service for international tourists on top of various discounts and campaigns.
BIC Super Express: Have Everything Delivered to Your Hotel!
Bic Camera offers a wonderfully convenient delivery service that lets you send your purchases to certain specified areas for 1,000 yen. With a purchase of more than 15,000 yen, the delivery service is free! Bic Camera Tourist Privilege Discount Coupon in Tokyo.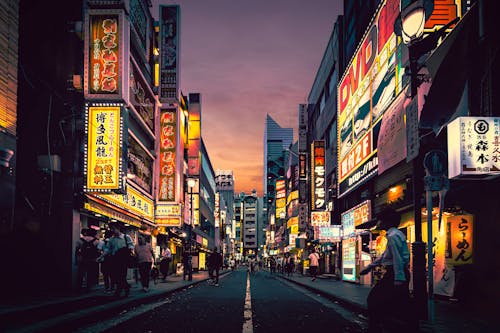 Shinjuku
Must-Do
Shinjuku Bars and Kabukicho
Tokyo, Golden Gai retains the post-war charm, frequented by celebrities and home to myriad small bars and restaurants.
The red–light district of Shinjuku. Kabukicho is a district located in the Shinjuku ward. This district is rather a pleasant place that never sleeps.  The neon-lit alleys of Shinjuku and Kabukicho after dark to sample local cuisine at the best hole-in-the-wall eateries and experience quirky bars.
This Golden Gai has been growing in popularity as visitors seek that elusive unpolished side of Tokyo life.
DAY FOUR– OUTSKIRT EXCURSION THE SPLENDID MOUNT FUJI
Mount Fuji is among Japan's traveler's favorites. This breath-taking destination is right at the top of many visitors' bucket lists. It offers a magnificent view of 3,776 meters above sea level. Mount Fuji is part of the Fuji-Hakone-Izu National Park, located less than 100 kilometers away from Tokyo.
Mount Fuji is the youngest of the 3 Volcanos and the makeup of Komitake and Kofuji volcanos. The last reported eruption was in 1708. This giant volcano is regarded as a good fortune by the Japanese.
The Fuji Excursion is a regular limited express service which runs between Shinjuku on the Chuo Line.  If you have a Japan Rail Pass you can ride a part of the Fuji Excursion (Shinjuku – Otsuki) without the need for an additional ticket.
The official climbing season is from July 1st to August 31st, outside these months the mountain huts are closed and the lack of shelter means tackling this difficult climb should be left to the very experienced only.
The most popular path is via Kawaguchi-ko 5th station (this is not a train station, just a stop before going up). There is a post-office on the top of Mount Fuji, which is a cool way to write yourself a postcard post to your home address.
Direct access from Shinjuku to Mt. Fuji
A new limited express, Fuji Excursion is available from Shinjuku station in Tokyo to Kawaguchiko station (Mt. Fuji). Fuji Excursion, operated by JR East and Fujikyu, started its operation on March 16th, 2019. With this new limited express train, you can access Mt. Fuji without any transit. And, it takes less than 2 hours.
Fuji Excursion operates every day, 2 trains on weekdays, and 3 trains on weekends/holidays.