How to carry yourself with an Attitude in Spring/Summer?
Here are some of the ideas for
Men Fashion Trends in 2020
While you're probably still focusing on wearing warm and heavy clothing on last dreadful winter, you shouldn't have skip notice that the spring season has already arrived. It is time to ditch those thick coats and start embracing the most beautiful lovely seasons of the year. This is the perfect time to add some color and spring up your trendy wardrobe.
Spring and summer are, without a doubt, the liveliest seasons in the year. These seasons of brilliant colors come with growth, warmth, and playfulness. Allowing every guy to reflect perfectly to take on interest to include some bright colors to spice up his wardrobe.
The trends of Spring/Summer 2020 very much revolve around Royal Blue and Scarlet Red and among others. which allows you to put on an attitude and get that trendy look effortlessly.
Fashion style trending in 2020 is Denim, Bermuda, Polo shirts, and complete with a pair of loafers or sneakers, and much more….
Here are the 5 tips to jazz up your weekend
---
1. UPGRADE DENIM
Every fashionable guy knows we have denim, and then we have upgraded denim. Upgraded denim is the trend this year as they're edgier and bolder than regular denim. For this season, the shirt and jeans in a complete full denim look are hot.
A plain white tee and top it with Denim Jacket, and a pair of denim jeans to bring out the beauty of denim more than anything else. The blue and white is the everlasting look!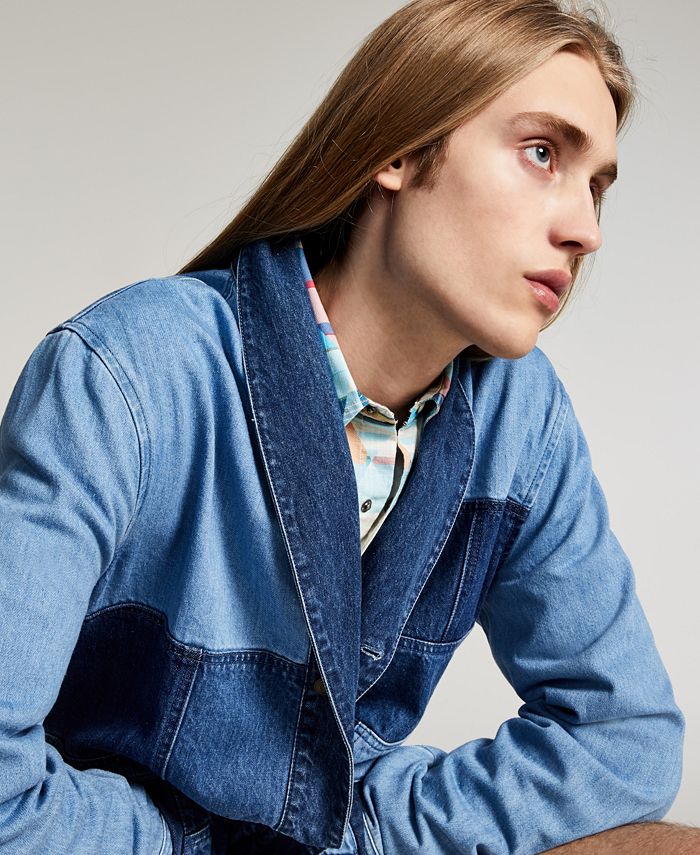 Men's Lucas Regular-Fit Colorblocked Patchwork Denim Jacket
2. VERSATILE BERMS
Bermuda is comfortable, versatile can be both casual and formal depending on how you style up. This is another apparel you can't go wrong with for any outdoor activities. And even look cool indoors when Top with a dress shirt.
Regardless of any body shape, you can be certain berms will look good on you.
To create that formal look, the 2020 classic neutral color range like the Lark, Classic Blue blazer, brilliant white, and Ash is a perfect match for any color top you have in your wardrobe.
For a change adding some of the top colors in 2020 like Flame Scalet with Lark, and tone Berm will set you right.
For a more Formal look match it with
Navy blazer berm with a button-down collar white dress shirt and pair with a pair of leather loafers in red.
To create that sporty casual look match it with
Add a cheerful, bright colors like Coral Pink polo with a pair of Classic Blue, which is the trending color in 2020 to liven up the mood.  
On the other hand, Orange Peel berms can be interesting too, adding some vibe to your wardrobe collection for 2020.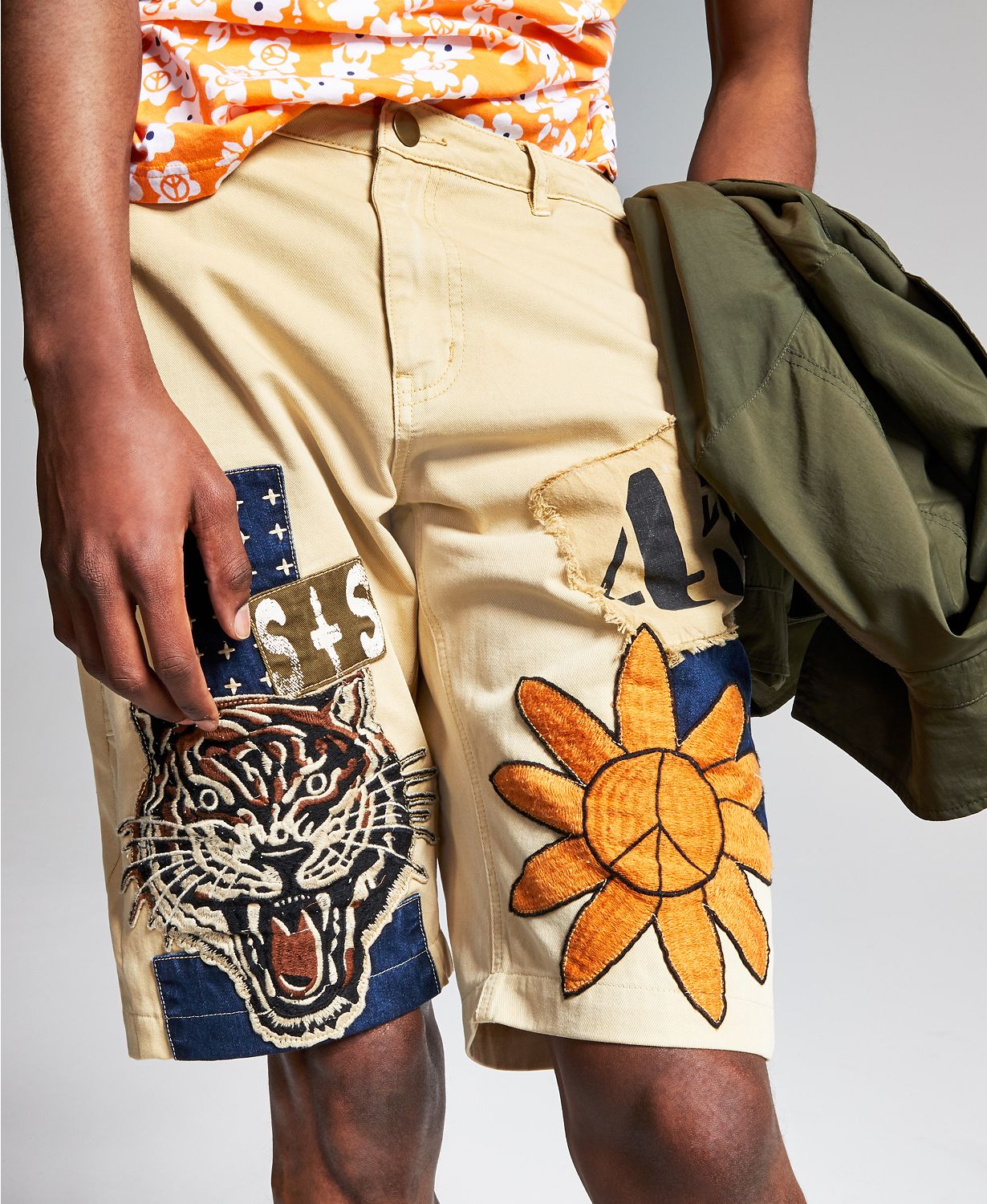 Featuring screen print graphics and contrast fabric patching with handcrafted quality, these Sun + Stone shorts will make your warm-weather days a little more adventurous.
The word tropical remains us of summer, hot sun, tranquil blue ocean, and holiday resorts. 
All these simply bring us more cheers to go outdoors and get the sweat out. it makes it quite easy to picture yourself on an island in Bali or on a trip to Ibiza in Spain.
It is time to pull out your Coral Pink Cuban collar loose-fitting shirt from your wardrobe.
Or grab a catchy bright-colored Polo Tee to reinvent the dull look.
Check out Packing Hacks to the Tropic for more traveling packing ideas.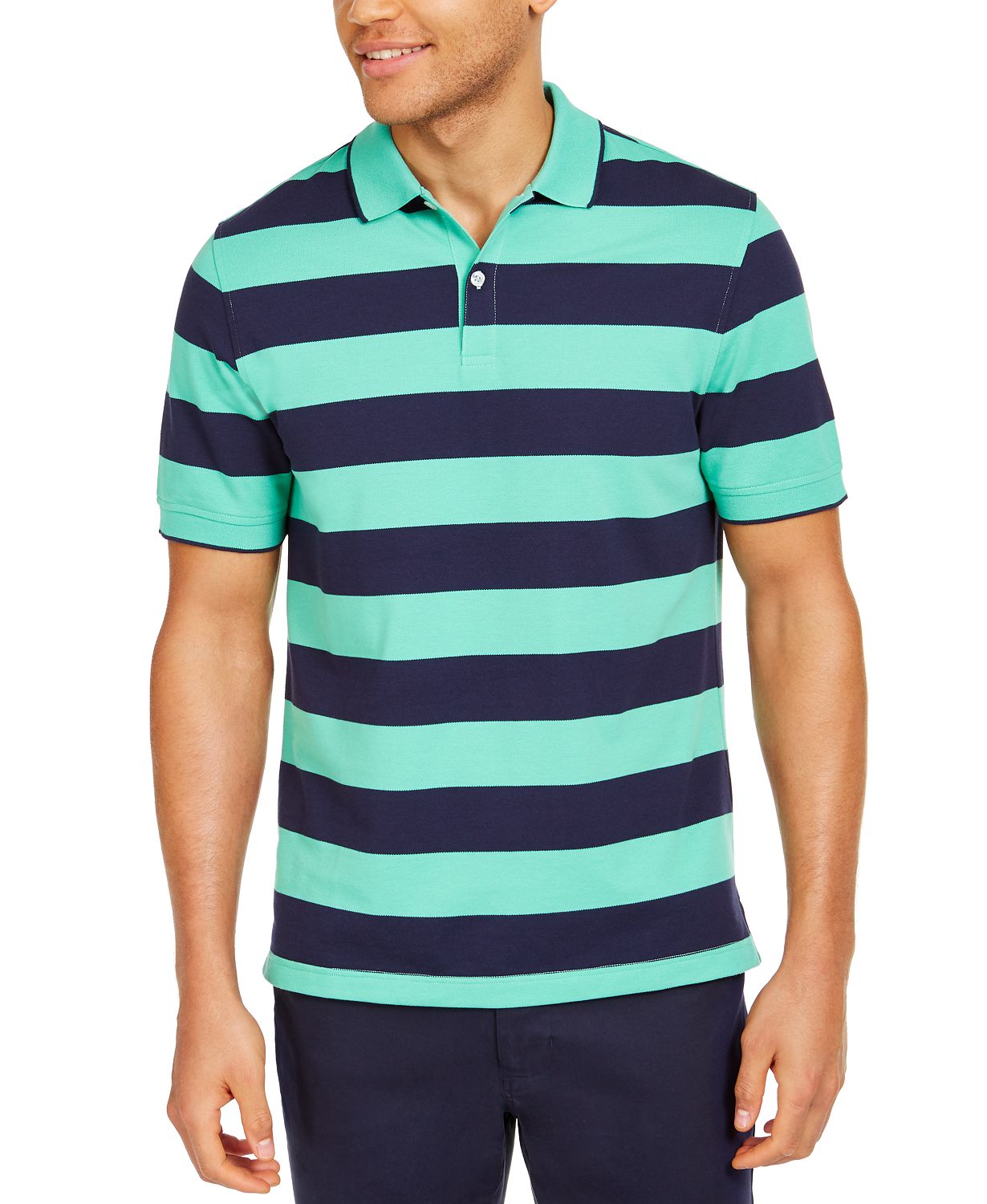 Stretch fabric with UPF protection makes this striped polo shirt by Club Room
your perfect piece for comfortable and stylishly fun days in the sun.

3. TIMELESS STRIPES
Stripes are timeless and evergreen. They create that structural and immaculate look.
Almost every one of us owns more than one Geo Stripes Dobby shirt in our wardrobe. Very more so for 2020, stripes are trending.
Pinstripes in any color on a white shirt will freshen up your look at any given time.
Pinstripes Classic Blue suit with a white shirt or coral pink look simply smashing.
Go casual with a Stripes Shirt with Denim Jeans or a Berm and viola, the instant causal smart look!
The textured shirt is the perfect shirt for layering over your favorite tee or
wearing buttoned-up for a smarter look.
4. STYLISH LOAFERS
Loafers are like a pair of Berms, they are both comfortable, versatile can be both casual and formal.
Most of us will own at least a pair or 2 of Loafers or Drivers because they look both casual but smart at the same time.
Loafers or Drivers are so seasonal, capable to wear out in all kinds of events, shopping, walking, clubbing, and dining. With stylish loafers, you'll be all set to steal the spotlight this year!
Get more ideas on 10 ways of looking smart with a suit.
5. COOL HOODIE WITH SNEAKERS
The popularity of hoodies is that casual and fashionable look. Many celebrities like wearing them. Everyone perpetually loves and owned at else one hoodie because of its ultra-comfy smartness, feeling pampered, and keeping warm with the soft hood look.
These days walking around with a pair of sneakers is cool and fashionable. Celebrities often pair them with almost anything from formal to casual. You often come across a cool pair of white sneakers that will give you the magic touch.
This spring and summer are not exceptional, the best time of the year to show off your footwear to create a statement for yourself.
Bright colors mean you can go wild with your sneaker choice. So, go wild!
Pick a cool hoodie in 2020 with a variety of colors in Orange Peel to spice up your wardrobe.
Sneakers are a guy's best friend so show off your best friend this spring/summer!
Plugin your cool earbuds tune in to your favorite music, and smell the warm sea breeze brushing through your face. Life is bliss.
Men's Spring Summer Fashion Essentials