6 days getaway in Bali
The picturesque city of Indonesia, Bali is the ultimate destination for travelers. While Indonesia is a Muslim country, Bali stands in contrast with a majority Hindu population. Besides, its treasure trove of iconic destinations, heritage, and adventure sports draw tourists from all over the world. Consequently, Ngurah Rai International Airport (Denpasar) is well connected, receives direct flights from all over the world.
To get into figures, more than 893,245 foreign tourists within the first two months of 2019. And this number is ever-increasing! Bali is undeniable an exotic paradisiacal land with ample of nature and culture to explore.
6 days getaway in Bali surely it is one of the best ways to explore the city. Have a look at the six-day plan to visit the Land of Gods, that covers most of the must-see locations.
Day 1 – Ubud
When your flight lands in Bali, Denpasar, Taxi are easily accessible at the Airport front counter. A ride from Denpasar to Ubud may take up to an hour or more depends on the traffic condition.
Ubud is located in the eastern part of Bali which is hilly and is a class apart from the rest of Bali. The picturesque landscape dotted with historic temples and palaces can be found here.
There are plenty of beautiful inns and hotels establishment located at the Jalan Monkey Forest District cater for travelers with different budgets.
Ubud center is relatively safe and clean, it is also a Retreat center for many travelers for rest, relax, at sort into a different time zone.
One can easily spend 3 days in Ubud without feeling stress, you will find yourself sitting in a restaurant with a backyard overlooking the padi (rice) field. It depends on the time of the year, November may be the best time, since the farmers just planted the padi and the whole city of Ubud is conducting a massive size of Rice ceremony prayers.
You must commence your trip with a trip to the Jalan Monkey Forest, one of the pristine forests of Indonesia, known for its vast monkey populace. Wise tourists tend to keep a safe distance from the monkeys and take good care of their belongings from monkey-thieves.
MUST-SEE: When in the Monkey Forest Park, visit the three temples it houses. These are, Pura Dalem Agung Padangtegal (the great temple of death), Pura Prajapati and Pura Benji.
MUST DO: While you are in Ubud don't forget to make a booking for the divine Balinese massage, I found the Balinese massage at Ubud inn spa (part of Ubud inn Cottage) was pretty decent and clean.
MUST EAT: For those with a taste for good food, do try Ubud's famous Crispy Duck. The best local restaurant is Bebek Bengil.
Puri Lukisan Museum, Puri Saren Ubud, and Petulu Village Day Tour
Bali's Greatest Hits: Ubud & Kintamani Private Tour
Padi field Ubud
Jalan Monkey forest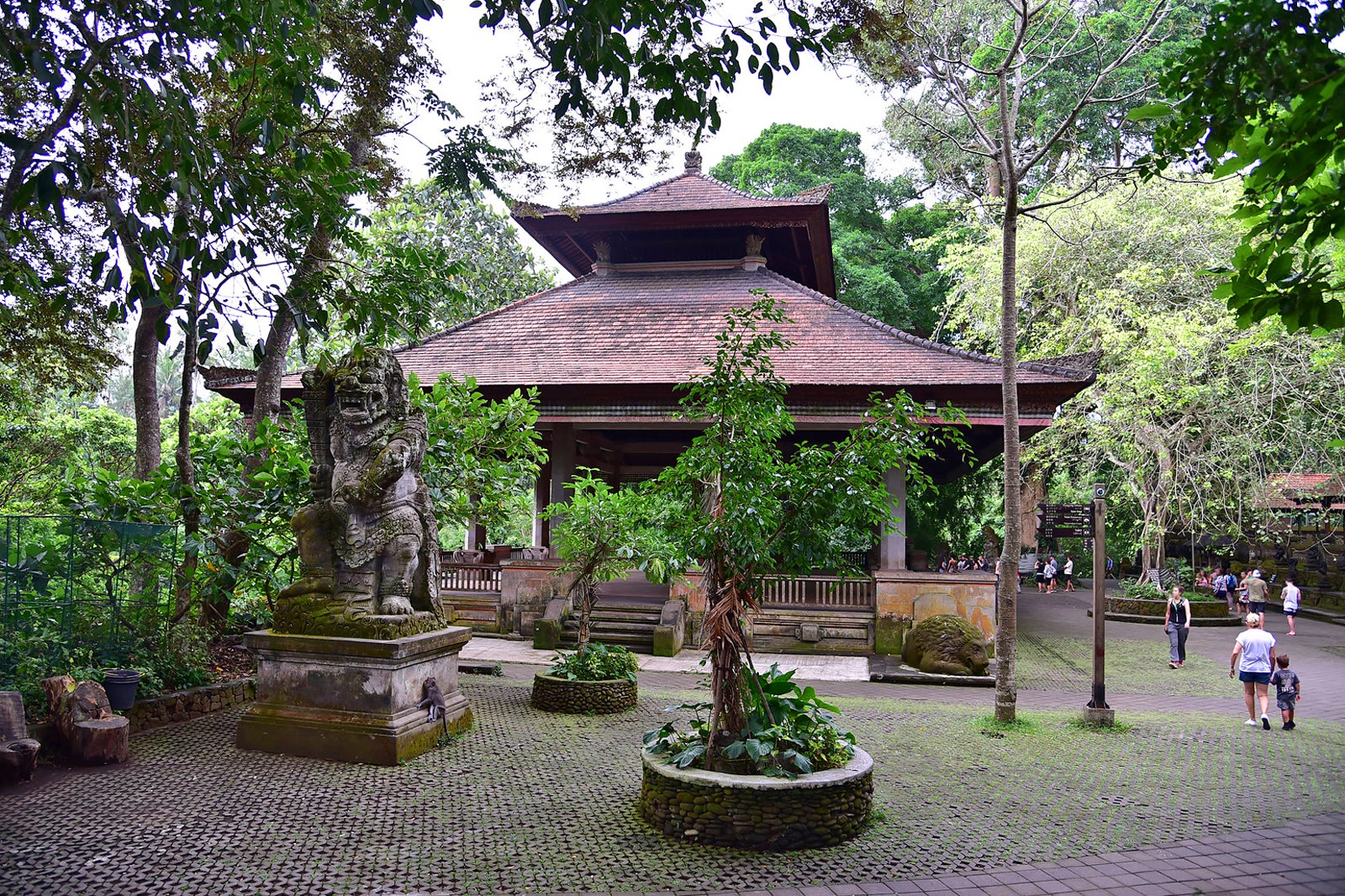 Bali Massage
Ubud Crispy Duck
Day 2 – Ubud
After a day well spent in the lush greenery of Bali forests, hit off the second day with a soothing yoga class. Besides, what can be a better backdrop than a serene jungle and oxygenated air for a meditative session?
MUST DO: You can venture into the scenic terraced hillside offering of Tegalalang rice paddies. It the best place to soak in the calmness and serenity of this mini Eden. And if you are adventures try the Bali Swing. Or soak in Ubud river, try booking the white water rafting if still have the stamina to walk and paddle, will sweep you off your feet with its enchanting views.
MUST EAT: If you are a gourmet, you might want to consider making a dining booking with Restaurant Locavore way in advance before you arrive in Ubud because this place is mostly over-booked out.
MUST-SEE: Later, you can stroll off to the temples located in the center of the city of Ubud. The Pura Taman Saraswati, dedicated to Goddess Saraswati, is a lotus studded affair while the Pura Gunung Lebah is pure bliss.
Day 3 – (A) Mount Batur or (B) Bali most sacred Temples Besakih Temple, 
which is also called the Mother temple and Lempuyang the Gate of Heaven 
 (A) Mount Batur
Mount Agung is Bali's highest peak can be conquered in 4 to 6 hours. This volcano is 3,031 meters above sea level.
The routes are also much more difficult and challenging as compared to mount Batur Bali so hiring a local guide is recommended.
While you are in Ubud, you might want to explore Indonesia's most active volcano Mount Batur while she is cold and chill.
This massive mountain dominates the scenery of the area, influences its climate, and is the source of many legends and myths.
To take a hike to Mount Batur need to get ready for an early pick-up. The tour kicks off at 1 am and by 3.30 am you will already be at the base of Mount Batur. Start your hike up and you will arrive at the summit by 6 am — just in time for the sunrise. Take stunning photos of the rising sun and explore the crater and volcano.
(B) Join a full-day trip to Bali most sacred Temples Besakih Temple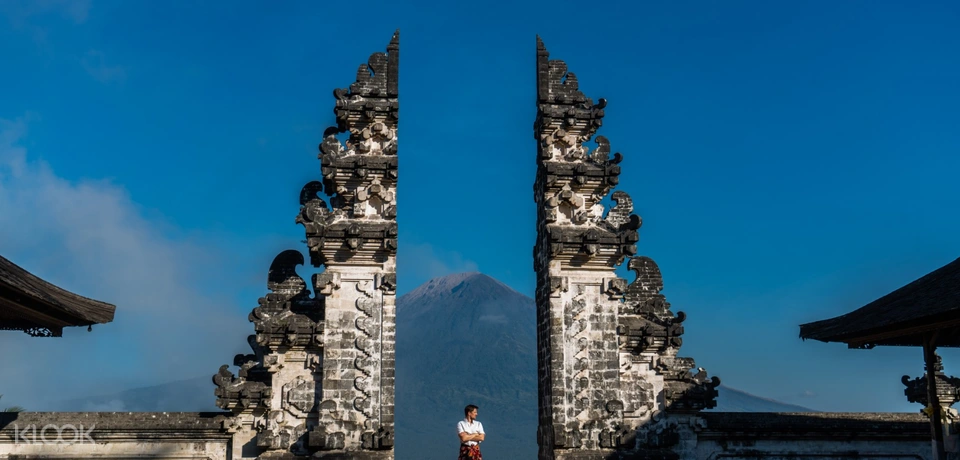 Which is also called the Mother temple and Lempuyang the Gate of Heaven
The Besakih Temple deserves a visit. It is located on the slopes of an active volcano, Mount Batur, It's 23 temples are spread across six levels and accompanied by gorgeous views of nature. and considered as the Mother Temple of Hinduism. The mystic surrounding this temple is the serenity and phenomenal.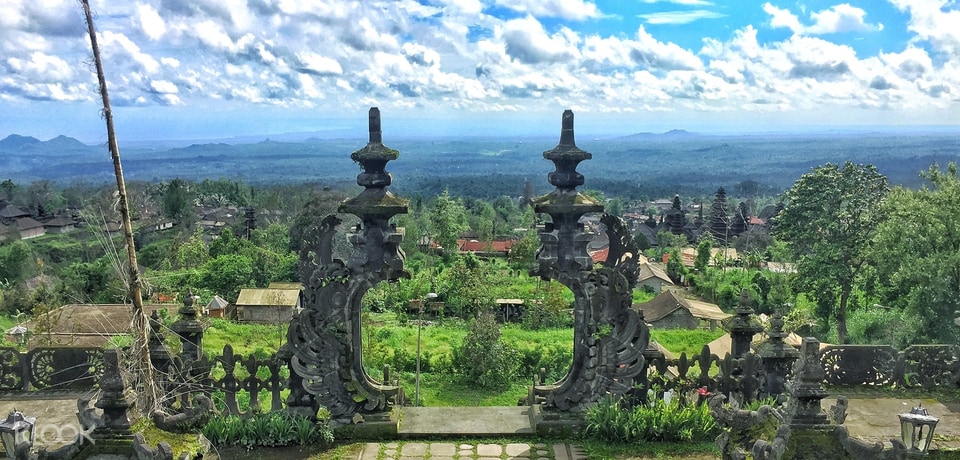 Mount Batur erupted five times in late November 2017, causing thousands to evacuate, disrupting air travel and causing environmental damage. Besakih Temple was unaffected by this eruption given its close range.
MUST DO>> Lempuyang the Gate of Heaven is another breathtaking temple a picture with this gate.
Day 4 – Seminyak
Seminyak is more upscale and enclave by some reputable seaside café, cocktail bars like Potato Head Beach Club, Ku de Ta, Woo Bar, and more.
Head on down to Jalan Petitenget, perhaps stay at Hotel Tony Villa and Resort. This hotel is conveniently located opposite the Potatoes head beach club and next to this well known Biku restaurant.
Potatoes Head Beach Club & Biku restaurant falls on our MUST DO and EAT list, while you are staying in Seminyak Jl Petitenget.
Seminyak Square is the shopping precinct of Bali, which is also within the Jl Petitenget vicinity.
MUST DO: A typical day in Seminyak is involved in sunbathing or drenching in the pool overlooking the ocean, sipping your favorite cocktail, and indulge in hip hop music.
Day 5 – Tanah lot
More than an hour away from Seminyak to Tanah Lot is another destination that's has translated into Land in the sea. However, Tanah Lot Temple can be visited only during low tide as it sits on an offshore rock. This is another sacred temple, both local and foreigners folk to this place by the thousand every day.
MUST DO: For a sound sleep, prefer staying at the Natya hotel, which only at a stone's throw from the temple. It offers magnificent views of the majestic temple and dramatic sunset. It will surely be a day well spent.
Day 6- Beaches of Bukit Badung Peninsula
What better than digging your feet in the white sand beaches of Bali, towards the end of the trip? The Bukit Badung Peninsula is the best spot to indulge in some leisure time.
MUST-SEE: The most famous beaches of this peninsula are Padang Padang, Tebing Pantai Balangan, and Pantai Tegal Wangi. Notably, the Tebing Pantai Balangan is known for mesmerizing views of the lofty cliffs. These are not worth missing. And so are the Jimbaran beaches.
MUST DO: During the day, visit one of the sunny beaches like Thomas Beach and click some cool Instagrammable pics. At night time, one of the famous Bali cafes like the Land's End, Suka Espresso, etc., will help you sip in serene sunsets.